WYLDWOOD WILLOW COVID 19 UPDATE
I hope you have all stayed well and safe from the covid-19 pandemic.
Here at Wyldwood Wwillow, I had a well deserved rest for the first 6 weeks at home, but the business called and I have been back in my workshop on a daily basis for the last couple of months, working on all sorts of projects including lots of commissions and some filming of tutorials which will shortly be available through the website. Please register your interest in these by emailing me.
Like many of you, I have been keen to see lockdown here in Wales lifted so that I can carry on passing on my willow weaving skills to you. Therefore I have been working towards being able to teach safely and effectively, obviously a few things have had to change to protect us in the classroom environment.
I wanted to reassure you all that with reduced numbers on workshops, extra hygiene procedures and social distancing, and a slightly different way of teaching, that I am making every effort I can to accommodate you. With this in mind if any of you have underlying health issues and are concidering a workshop please get in touch with me so that we may talk things through.
I thank you for your continued support and patience in this matter and hope to see you again soon.
ARTISAN WILLOW WEAVING BY
WYLDWOOD WILLOW
Wyldwood Willow is a small company based in Monmouthshire, South Wales.
I specialise in natural products for home and garden, made with willow and handwoven by me. I enjoy using traditional skills with a modern twist. In addition to making and selling a wide range of willow baskets, fencing, sculptures and decorations for the home and garden, I also run regular workshops to pass on the ancient skill of willow weaving to others.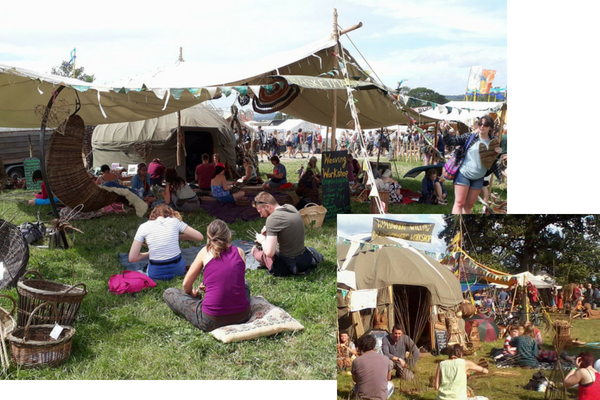 WHERE TO SEE ME
EVENT CALENDAR
You can find me with my yurt, at a range of events and festivals across the UK every year offering workshops and willow weaving demonstrations, as well as a range of baskets and other items for sale.  Check the event calendar to see when I might be in your area. 
WHAT'S GOING ON?
WYLDWOOD WILLOW NEWS
LATEST POSTS FROM FACEBOOK
[powr-social-feed id=caa0eea4_1526287052]